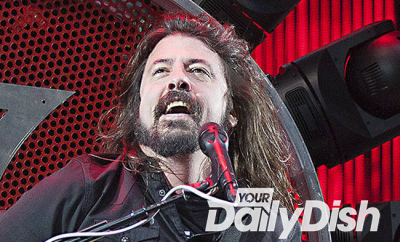 Entertainment
Dave Grohl Invites Former Classmate Onstage
By
|
Dave Grohl encouraged a former classmate who surpass him in a high school battle of the bands contest on stage during a Foo Fighters show.
Editors of Billboard report Dave encouraged musician Chet Lott on stage during the group's show in Memphis, Tennessee, on Wednesday. The rocker was got the better of by Chet in their ninth grade battle of the bands contest, Dave told the bunch.
They reunited to cover David Bowie's "Under Pressure," and Chet told Dave after the performance, "I may have won the conflict, but you won the war."
The group is becoming as well-known as Taylor Swift for encouraging guests to perform with them during their world tour, with members of Pearl Jam and Blind Melon, Led Zeppelin's John Paul Jones and Queen's Roger Taylor, and Red Hot Chili Peppers' Chad Smith joining the rockers.
The rockers additionally encouraged Dave's surgeon, Dr. Lew C. Schon, upward on stage during their show in Boston, Massachusetts. The pair performed the White Stripes' "Seven Nation Army" back in July.
The tour was derailed over after Dave broke his leg and fell off stage at a show in Sweden, but they afterwards restarted the trek using a specially-made throne for the star